Collections of Bibliotheca Aramaica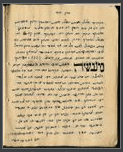 The following list is a brief catalog of the collections of Bibliotheca Aramaica. The list does not contain manuscripts or publications on loan.
Diyatiqa Hadatha, Peshitta in square Hebrew; Antwerp by Christopher Plantin. 1575.

Book of Jonah, Aramaic/Syriac by W. Wright. London. 1857.

Didascalia Apostolorum, Aramaic/Syriac. 1854.

Lexicon Heptaglotton, Hebrew, Aramaic, Syriac, Arabic, Samaritan, Ethiopian...1669.

Acta Mar Kardaghi, Assyriae Praefecti qui sub sapore II martyr occubuit, Syriace juxta manusciptum amidense. J.B. Abbeloos. Societe Belge de Librairie. 1890.

Aleppo Codex. Hebrew Tanakh. Facsimile.

Aleppo Codex: Keter Aram Tzova. Hebrew University of Jerusalem, 2000, 2004.

Amplified Bible. Bible in English. Lockman Foundation, 1954-1987.

Arabic Bible Old Testament. International Bible Society, 1988.

Arabic versions of the Pentateuch in the Church of Egypt. A study from oeighteen Arabic and Copto-Arabic MSS (ix-xvii century). 1921.

Aramaic Genesis. Partial Torah scroll containing the text of Genesis in Aramaic. Damaged, brittle.

Aramaic Genesis. Genesis scroll containing the text of Genesis in Aramaic. Reconstructed from above.

Aramaic Haftarah Scroll. Containing the weekly Haftarah in Aramaic for reading in synagogue. Damaged, brittle.

Aramaic Origin of the Fourth Gospel. C.F. Burney. Oxford, Clarendon Press. 1922.

Aramaic Papyri of the Fifth Century B.C. Edited with translation and notes by A. Cowley; Oxford, 1923.

Aramaic Peshitta. Aramaic with Hebrew translation; ncludes 1891 Mosul text. Bible Society in Israel.

Aramaic Peshitta. The New Testament in Aramaic. Official version used in the Assyrian and Catholic Church of the East. Eastern Aramaic. Damaged, brittle.

Aramaic Peshitta Tanakh. Swadaya script.

Aramaic Peshitta Torah. Spanish translation of Peshitta Torah based on University of Jerusalem Aleppo Codex Keter Aram Tzova, Codex Ambrosianu and various Aramaic manuscripts. 2008.

Bible in Amharic. The Old Testament in Amharic. International Bible Society.

Biblia Peshitta en Español. The Peshitta in Spanish. Instituto Cultural Alef y Tau, A.C.; Broadman & Holman Publishing Group, 2006.

Book of Consolations: Pastoral Letters of Isho-yahbh. Aramaic with English. London, Luzac and Co. 1904.

Book of Jonah in Chaldee, Syriac, Ethiopic and Arabic. London.

Book of Judges. Text and notes with index. Charles Lett Feltoe. London, 1895.

Book of Tobit - A Chaldee Text from a unique MS in the Bodleian Library with other Rabbinical Texts, English Translation and the Itala. Oxdord.

Codex Ambrosianus Aramaic Peshitta Tanakh/Old Testament with Deuterocanonical Books. Facsimile. Fifth century.

Collation of an Indian Copy of the Hebrew Pentateuch. Hebrew and Syriac. Cambridge, 1812.

Commentaries of Isho'dad of Merv. Syriac and English. Cambridge, 1911.

Dawnings of Light in the East: With Biblical, Historical and Statistical Notices of Persons and Places Visited During a Mission to the Jews in Persia, Kurdistan and Mesopotamia. Henry A. Stern. London, 1854.

Death of a Nation, or the Ever Persecuted Nestorians or Assyrian Christians. Abraham Yohannan. With twenty-seven illustrations and a map. 1916.

Didascalia Apostolorum Syriace.

Earliest Life of Christ Tatian's Diatessaron, Literally translated from the Arabic Version and containing the Four Gospels woven into One Story. J. Hamlyn Hill. London, 1910.

Early Eastern Christianity - St. Margaret's Lectures on the Syriac-Speaking Church. F. Crawford Burkitt, 1904.

Epistles of S. Clement to the Corinthians in Syriac.

Ferrara Bible. The Ladino Bible of Ferrara. 1553.

Fourth Book of Maccabees and Kindred Documents in Syriac. Text with English translations. 1895.

Geneva Bible. English Bible of the Reformation, Puritans. "Breeches Bible." 1587. Facsimile.

Haggadah According to the Rite of Yemen, together with the Arabic-Hebrew Commentary; and introduction, translation and critical and philological notes. William H. Greenburg. Text with translations. London, 1896.

Hebrew Language Viewed in Light of Assyrian Research, Frederic Delitzsch. London, 1883.

Introduction to the Church of the East by His Holiness Mar Eshai Shimun.

Jafeth b. Ali's Arabic Commentary on Nakhum with Introduction, abridged Translation and Notes. Edited by Hartwig Hirschfeld. London, 1911.

Jewish Documents of the Time of Ezra. Translations of early documents, Palestinian Jewish texts, pre-Rabbinic, translated from the Aramaic. A. Cowley. London, 1919.

Keter Torah Taj. Tikkun Sofrim Teimani, 2 volumes.

Khabouris Codex. Aramaic Peshitta New Testament; transcribed by Stephen P. Silver. 2006.

King James Bible. Bible in English, Protestant, Church of England authorized version. Containing dedication to James King of England, introduction by the translators, church calendar and almanac, lectionary with lessons for holy days, proper Psalms on certain days, list of holy days, and apocrypha. Facsimile of 1611 edition.

Liturgical Homilies of Narsai, translated into English with an introduction. Cambridge, 1909.

Liturgy of the Church of the East translated by H.H. Mar Shimun. Liturgy of the Holy Apostolic and Catholic Church of the East. Transliterated Aramaic with English translation.

Modern Syriac-English Dictionary by Abraham Yohannan. Columbia University, 1900.

Nestorian Churches: A concise history of Nestorian Christianity in Asia from the Persian Schism to the modern Assyrians (contains a forward by H.H. Mar Eshai Shimun) Aubrey R. Vine. London, 1937.

New Testament translated from the Syriac Peshito Version, with appendix. James Murdock. New York, 1851.

Odes and Psalms of Solomon. John Rylands Library. Two volumes, with facsimile reproductions. Syriac and English. 1916.

Palestinian Syriac Lectionary of the Gospels. Re-edited from two Sinai MSS and from P. De LaGarde's edition of the "Evangeliarium Hieroslymitanum". 1899.

Palestinian Syriac Texts from Palimpset Fragments in the Taylor Schechter Collection. Agnes Smith Lewis and Margaret Dunlop Gibson. London, 1900.

Palestinian Syriac Version of the Holy Scriptures: Four Recently Discovered Portions; together with verses from the Psalms and the Gospel of St. Luke. Society of Biblical Archeology, 1897.

Persian Bible. The Old Testament in Persian/Farsi. International Bible Society. 1995.

Peshitta Megilloth Hebrew and Aramaic with Onqelos, five Megilloth with commentary and notes.

Rules Collected from the Synhados of the Church of the East & Partriarchal Decrees. Assyrian Church of the East Canonical Law. 1960.

Saadja Al-fajjumi's arabische Psalmenubersetzung und Commentar: Psalms 125-150. Berlin, Judeo-Arabic. 1904.

Sveto Pismo. Starega in Novega Zakona. Stari zakon po hebrejskem, Novi po grskem izvirniku. The Bible in Slovenian translated by Anton Chraska. Published 1914, 1925.

Some Early Judaeo-Christian Documents in the John Rylands Library. Syriac texts with translations by Alphonse Mingana, including "A New Life of Clement of Rome," "The Book of Shem Son of Noah," "Fragment frmo the Philosopher Andronicus and Asaph, the Historian of the Jews."

Syriac Forms of the New Testament Proper Names. F.C. Burkitt. London.

Syriac Grammar. George Phillips. Cambridge, 1866.

Syro-Latin Text of the Gospels. Frederic Henry Chase. New York, 1895.

Targum to Canticles According to Six Yemen MSS, Compared with the 'Textus Receptus' as contained in De LaGarde's 'Hagiographa Chaldaice'. Raphael Hai Melamed. Philadelphia, 1921.

Theodore of Mopsuestia's commentaries on Tanakh. English translation.

Translation of the Four Gospels from the Syriac of the Sinaitc Palimpsest. Agnes Smith Lewis. London, 1894.

Young's Literal Translation of the Holy Bible. J.N. Young, 1862, 1898.

Incomplete List of Hebrew Torah Scrolls
Torah Scroll 1 Yemen, leather. Dated 1609.

Torah Scroll 2 Yemen, leather. Dated 1659. Damaged, first six panels and last three panels missing.

Torah Scroll 3 Yemen, leather. Dated 1704.

Torah Scroll 4 Iraq, leather. Dated 1800.

Incomplete List of Papers and Journals
Aran Younan writings. Various hand written notes and journals by Aran Younan in Jewish Aramaic.

"The Bible and the Assyrians, it Kept their Memory Alive". John Joseph, Ph.D. From Journal of Assyrian Academic Studies